Abbas Lehry
Abbas Shabbir Lehry Managing Director of Lehry Instrumentation And Valves Pvt Ltd, Born and Brought up and graduated in Chennai. Joined Business in 1981. To gain Technical experience worked in a valve manufacturing company . From the customary family business of distributorship ,Set Up first Manufacturing Unit in 2006. Presently having 3 Factories. Business and offices spread across the world. Instrumental in popularizing the brand in a short span. Now not only products but has developed the company as solution provider. Has successfully tied up with large companies as OEM vendor. That is the secret and USP of his products.
From 2 million to 20 Billion market. Currently Chairman of Indian Plumbing Association Chennai Chapter , Indian Plumbing Skills Council, Was a committee member of Ishare Chennai, Health enthusiast, Loves to run Marathons, has run several marathons across India and Motivated several beginners into pro runners. His entire family is a health enthusiast. Cycling, Swimming are some of the other passions.
---
Adnan Lehry
Mr. Adnan Abbas Lehry, born and raised in Chennai, holds a Graduate degree of Commerce from Loyola College, Chennai. He has also been a Former Marathon Runner and National racing driver for Volkswagen and MRF. He is an active CrossFit athlete and enthusiast. Mr. Adnan joined Lehry valves in 2010 as an additional director and spent the next 3 years understanding and learning the technical as well as the theoretical aspects of the business. He officially started working as a full time director in 2013.
During the period of 2013 to 2015 he was majorly involved in taking care of the finances of the company. In April of 2015, he decided to move his base to Mumbai and took up the challenge of boosting the sales of the practical branch. With his valuable additions, there has been a significant increase in the same over the years. Currently he heads the Mumbai Branch for Lehry Valves and carters to the Western parts of the country as their Director Marketing.
---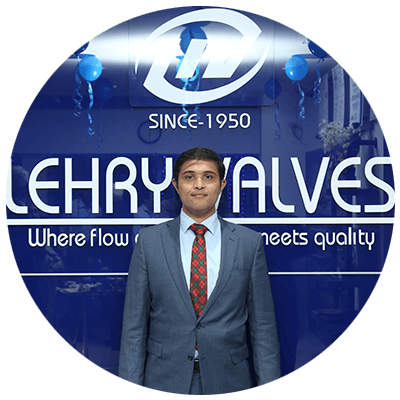 Hussain Lehry
Hussain Lehry B Sc in Aviation from University of Mumbai in 2009. With a Commercial Pilots License from Canada and India. Aviation is still a hobby which I fulfill time to time to keep my license updated and skill updated. After joining the company in March 2009, with the advantage of our overwhelming history In the Southern Industry, giving us good opportunity to expand our Horizon to other parts of India and Overseas.
Lehry Has today grown to be market leaders in the Infrastructure and Industrial Segment, with a keen intention to bring in the latest technology and innovation in the industry into the country. Our Marketing Goals are focused towards Green concepts and Sustainability. Our Mission for 2025 is to be the most Desired valve Manufacturing Company, by enabling country Wide Representations, Social Media Interaction and Fully E commerce enabled to be available at the click of a button. and we wish to achieve this by winning over the confidence and support of our customers. Welcome to the Lehry Valves Family. We are committed to enhance the experience of our slogan "Where Flow and Pressure Meets Quality".
---
Sanjay Jude
Sanjay Jude has a background in Electronics & Communication engineering, Business Analytics, Economics, and Sustainable Business Strategy. He has been a part of "Lehry" since 2014 and has aided with brand development, and has also played a huge role in imparting knowledge to the industry, in the verticals of plumbing and firefighting. He is an avid reader, writer, and orator, with a keen interest in mechanical precision watches, market behaviour analytics and political science. He strongly believes that the 3 attributes - Tenacity, Self-reliance and Willpower, are the fundamental axiom to success.